Alignment Center at
Performance Lincoln
Enjoy a Comfortable Ride with Alignment Service in Randolph, NJ
While your tires are the only parts of your vehicle that are in touch with the road, your suspension is responsible for how they contact the asphalt. In New Jersey, rough spring roads can take a toll on your suspension, knocking your wheels out of alignment and causing major problems. Have your Lincoln alignment checked out at Performance Lincoln and restore the proper handling and comfortable ride of your luxury car or SUV today!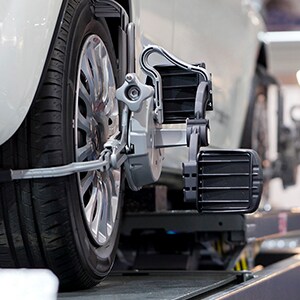 Why is an Alignment So Important?
Keeping your tires in contact with the road is how your vehicle manages everything from cornering, wet road conditions, stopping, and starting. If your wheels aren't aligned properly you can experience unusual handling, extended stopping distances, and even have issues with hydroplaning.
You'll also find that rapid and uneven tire wear exacerbate these issues, and it all started with a vehicle that was simply out of alignment.
When Should You Get an Alignment?
Measuring tire wear at various points around each wheel is the most simple way to determine if you have an alignment problem. If you are wearing one side of the tire more than the other, or you notice patches of rapid tire wear surrounded by normal tread depth, those are both signs that your alignment is not quite right.
Other tells are vibration while driving, extended stopping distances, and unusual handling, especially over bumps.
Finally, it is a good idea to have your vehicle aligned with each new set of tires. This includes when you change your summer tires out for snows with each season, which ensures you'll be getting at least two alignment checks per year.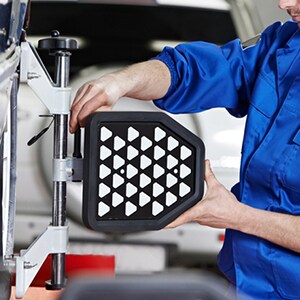 We're sorry, we do not currently have any specials published. Please check back soon or contact us for more information.
Schedule Your Alignment in Randolph, NJ
If you feel your vehicle is out of alignment, schedule an appointment at Performance Lincoln today! Our state-of-the-art tools and expert technicians will work to make sure your Lincoln has the proper alignment to give you the luxury drive you're accustomed to.
Hours
Monday

9:00AM - 8:00PM

Tuesday

9:00AM - 8:00PM

Wednesday

9:00AM - 8:00PM

Thursday

9:00AM - 8:00PM

Friday

9:00AM - 8:00PM

Saturday

9:00AM - 6:00PM

Sunday

Closed